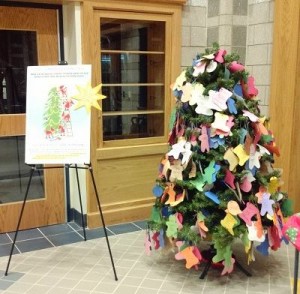 This year, Christmas 2016, the East Bridgewater Public Library will again host    the Giving Tree. We also have giving trees at Dewhurst Lumber and The Center   at Sachem Rock and Paul Wolfe Motors.
The trees will be up on November 1 through December 15th.
The Giving Tree will also be at Christmas at the Common on Saturday, December 3th,with the non-profit organizations in the back area of the GYM down the hallway by the locker rooms at the new Jr/Sr High School.  Volunteers will be on hand to answer questions and assist you.  If you would like to contribute, stop by, select a tag with a gift wish from a child in need, purchase the gift and return it to the library or town clerks office at town hall. 
HUGS sponsors an annual giving tree, and in collaboration with many generous businesses and individual donors, provides for children and families who have met with difficult times and are in need of assistance.
If you are a family in need of assistance, please contact us with your name, address and best contact info and a volunteer will call you to discuss your families specific needs.